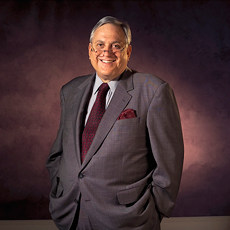 Arthur Schechter is the founding partner of Schechter, McElwee, Shaffer & Harris. Since 1964, he's practiced personal injury law and has helped thousands of clients successfully resolve their cases and begin new lives. He has represented a diverse array of clientele including people from local seaman's unions, the National Maritime Union, the Indian Seaman's Union, the Pakistani Seaman's Union, and individual seaman throughout the world.
Mr. Schechter serves as Senior Counsel and litigator for personal injury cases. He has also previously served as U.S. Ambassador to the Commonwealth of the Bahamas, as Board Chairman of METRO, and as a partner in a major national litigation firm.
Mr. Schechter received numerous honors and awards for his work including the Highest Civilian Award given by the United States Coast Guard and recognition as a Texas Super Lawyer by Texas Monthly Magazine, an honor only given to 5% of Texas attorneys. H Texas magazine has also recognized him as one of the Top Lawyers for the People.